Dine on the Harbor Promenade at Whalebridge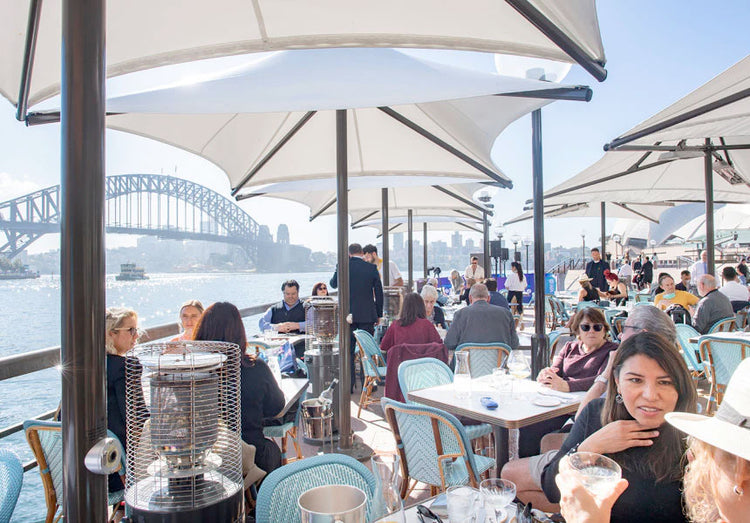 It's not a word you hear often and generally not in the context of restaurants, but this word packs a punch…and so it should.
Its very utterance requires it to walk the walk.
Breathtaking.
Whalebridge on Sydney's Harbour is certainly that.
Glance to one side and you have the Harbour Bridge looming largely enough to be seated at your table. A slight turn of your head and it close friend and confidant, the Opera House looks on approvingly.
Both wave you in on approach to this "there are no words" harbour promenade setting.
Water, water all around and nor a drop to drink?
We don't care. That's what the bar is for.
Sitting pretty, indeed.
It's French for Magnificent.
Don't let the umbrella laden promenade and baby blue seating fool you. While the invitation is casual, the food here is serious about its intent.
The menu sings a song of the ocean. This establishment's seafood offerings naturally go hand in hand with the surrounding environment.
It's almost a given that for lovers of food taken from our waters eat it here, in its once natural home. For those which a penchant for the unmatched flavour of these delicate morsels, loads of fresh briny oysters might be the only thing you order, and no-one would even bat an eye.
Perfect for a business lunch to discuss your next big move, or an overdue catch-up with friends spilling newly found secrets, Whalebridge smiles on all.
It has been said the kitchen staff here are harmonious, working together for the sake of efficiency and ultimate beauty in the food. While the word may not be synonymous with many high-level kitchens, we will take in on face value.
Does it show in the food?
You be the judge.
All Occasion Menus
Start at the beginning- The absolute best place to start, of course.
For more than two diners there are plenty of starters to whet the appetite with many a definite way to the inevitable question "can we get another."
Entrees are pure French elegance and move diners seamlessly into the more substantial mains.
Point in question? The twice baked soufflé and the must have duck liver parfait.
The plateaux de fruits de mer has something for everyone. Raw and cooked seafood, by its very name, will entice with every time. The condiments compliment the seafood and thankfully suggest a hint of restraint They don't take up a large and unnecessary portion of the platter, like in some establishments.
Is it their signature dish?
If not, it probably should be.
For those with something else in mind, don't go past the gnocchi with Swiss mushrooms or the duck cassoulet – the ultimate in French fare.
These are from the Bistro menu only, there are others to choose from.
The bar menu offers fresh bread, charcuterie plates, or a lobster roll to enjoy with your favourite beverages, or if you happen to be in the area Whalebridge's breakfast menu will fuel you for the day ahead.
A snack or steak frites and most things in between, the choice is yours.
Don't forget the bar itself. Perfect for a pre-dinner relaxer, or after a long evening out.
All this and a Happy Hour thrown in from 4.00 PM until 6.00 Pm Monday to Friday.
Is this what happens when Paris comes to Sydney?
Oui Oui !
Pleasing a Crowd
There's something special about celebrating great food and company on the best harbour in the world.
Is it the culture and history? Maybe. The natural setting? Probably, but there is something that isn't quite that immediate.
It's more likely that we are a nation of people who love to be outdoors. The salt in the air, the hum of the watercraft and perhaps just the water itself are almost pacifying. A panacea in an all too mixed up and noise-filled world.
Consider your next celebration be held at Whalebridge. Life is now about making the most of every moment.
It's about the whole experience and this is the perfect place to create those memories.
Whalebridge is the wonderful backdrop if you have a group setting in mind. Corporate lunches, special occasions or family gathering for over 12 people can be held here.
Confirm your requirements can be met and the restaurant will take care of the detail.
Keep in mind this is an outdoor venue. If the weather isn't cooperating, the restaurant will contact all bookings to arrange an alternative.
Postcard views and excellence in food and service is what Whalebridge is  known for.
Maybe it's time to see what all the fuss is about.
Save me a seat.
Where: 8 & 10 East Circular Quay  Sydney 2000
Cuisine: French; Modern Australia
Book: sevenrooms.com  Open Monday – Sunday 12 PM till Late Ph 02 9000 7709
Make it your new favourite. Book at Whalebridge today…and bring along your Good Food gift card.