Bambini Trust Good Food Gift Card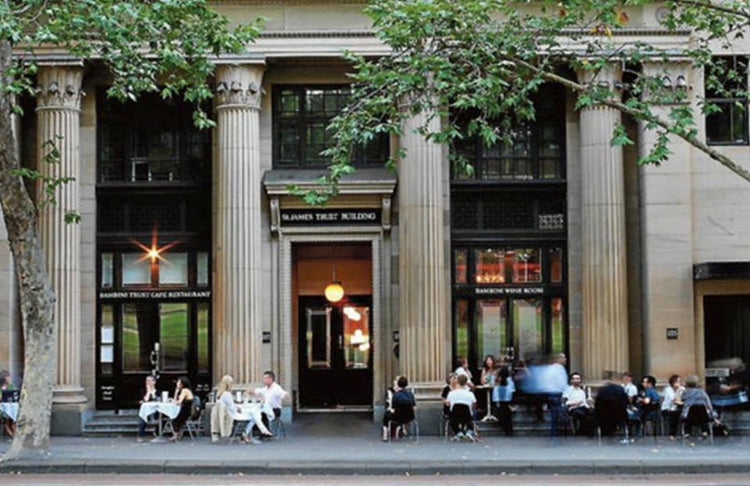 Looking for a restaurant with an abundance of style and elegance? Bambini Trust in Sydney's CBD will offer you that... and more.
Located within the recognisable St James Trust Building, its large columns stand to attention opposite Hyde Park. Bambini Trust Restaurant and Wine Room tries and succeeds in ensuring diners place this venue near the top of their favourites list.
What's so good about it? Patrons love the consistency of great food, presentation and service that accompanies and enhances the obviously purposeful grandeur of this restaurant.
As a diner, it is always nice to find somewhere to escape to while the realities and demands of life stay waiting patiently (or not) outside the doors.
Due to that, this establishment has been called everything from a 'lovely spot' to a 'welcomed few hours away' from the everyday.
Let's dive deeper into why.
The Atmosphere Here
For those with a penchant for chandeliers, this establishment has them…with a capital C.
Although you may feel an immediate need to swing from one of them, you should be urged to control the temptation.
Not to seem like a party pooper, but good luck climbing up to reach them anyway on the ridiculously high ceilings which, by the way, add an ambience perfectly matched to the rest of the décor.
Choose to dine indoors unless, of course, you don't mind the slight hum of the city going about its business. The terrace offers fresh air although some may prefer to hide, cocooned in the restaurant's moody lighting and elegance at a perfectly petite table for two.
Don't forget to sample the wine room and one of two of its award-winning inhabitants. The marble bar will beckon regardless of whether you partake in the art of wine appreciation.
The Specials written with purpose on the mirrors adds a nice touch, and a whimsy that lends itself perfectly to the temperament of this restaurant, overall.
If Bambini Trust Restaurant and Wine Room were a person, she may be described as non-stuffy in personality despite having an understated air of class. Surprisingly relaxed and casual in her playfulness with a noticeable well-rounded self-awareness making anyone want her company.
Food Glorious Food
For foodies, Bambini Trust will give you an abundance of inspiration for your next foray into dinner party excellence. For the rest of us who simply want an experience in food and wine excellence, there's no shortage of either.
So, let's get down to business.
The cuisine is described as contemporary European for those needing to put a restaurant's dishes into a definitive box, but it seems irrelevant somehow as this simply is a combination of French, Italian and contemporary Australian fare carefully selected to enhance each type of food's own inherent greatness.
The menu is a perfectly curated selection of Australian seafood, prime beef, veal, pastas and cured meats, all with the accompaniments to effortlessly partner whichever dish is chosen.
Some samples?
If you are a fan, there's no more familiar French dish than Steak Frites with beef sourced from the Riverina's finest grass-fed Angus. Try the Western Australian Scampi, as it appears to be popular along with the Wild Boar ragu with Pappardelle.
Diners with special dietary requirements are not overlooked, although it is always recommended that patrons discuss available options with the waitstaff. This is simply for diner comfort and to enjoy the experience without hesitation, but also as a courtesy to advise staff of preferences or allergens.
For dessert lovers, the Bambini Pavlova will not disappoint. Traditionalist Italian dessert lovers will be eager to see what they do with the Tiramisu, but for some, it's the punchy Affogato every time.
Don't forget, diners have the benefit of using the Good Food gift card at this restaurant. Just another reason to tick this one off your list.
It's Wine O'clock
Priding itself on the award-winning wine list to accompany a meal or as a pre or even post tipple, Bambini's selection offers Australian, New Zealand French, Italian and all points in between.
For the more old-school after dinner beverage, then syrupy dessert wines are a must. If the fortified selections are more your style, opt for a fine Sherry or a deep warming Tawny Port.
The wine and aperitif list here is extensive so don't be afraid to seek some guidance if you do not see something immediately familiar.
It is obvious that the presentation of dishes and old-fashioned excellent service is all-important to this establishment. Of course, it goes without saying that all restaurants understand the 'whole experience' concept of dining out, but here it is a definite non-negotiable.
Foodies, take a leaf from their book. Everyone else, simply take a seat.
Accepting the diner's essential Good Food Gift Card, this restaurant is a perfect choice for a special occasion, a regular meeting point or a pre-planned gathering.
Take your time and enjoy the surroundings both inside and out of this growing favourite Sydney establishment.
Where: St James Trust Building, 185 Elizabeth Street, Sydney 2000
Cuisine: Contemporary Australian, Italian, French, European
Book: Lunch Mon to Fri from 12 PM – 3 PM Dinner Mon to Sat 5.30 PM – Late.
Got an event coming up? This restaurant may be the perfect venue for that overdue get together. Book Bambini Trust Restaurant and Wine Room today, and don't forget your
Good Food Gift Card
.