4 Reasons Why Dinner is the Perfect Father's Day Gift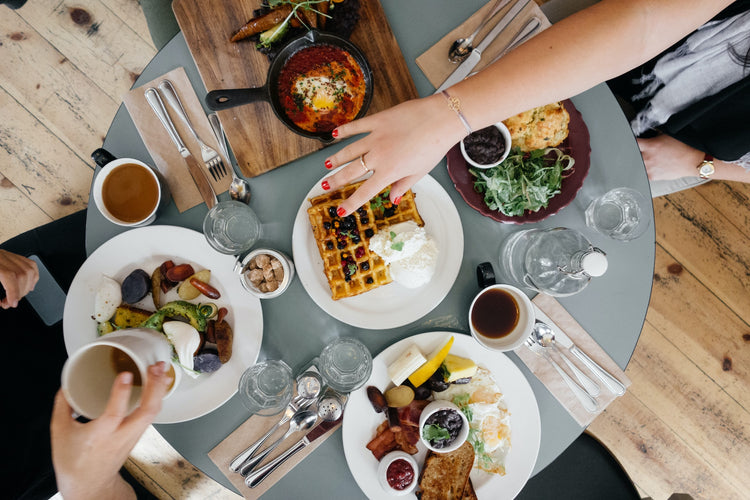 Giving the gift of food goes much deeper than just a meal.
While you may remember the cuisine type, the service and the environment, it's the memories created that last.
So, take those photos, keep them and maybe even give a copy back to everyone who joins this year's Father's Day celebrations.
Dinner is the perfect gift for this occasion.
Here's why.


1. Let's Gather
Mixed and blended families are more the norm these days and with individuals possibly living all over the country it's never been more important to make special event gatherings a focus point.
Why is gathering good for us? The foundation of why we gather that is most important.
Feeling a connection is one of the most binding emotions we can have as human beings, so it makes sense that reconnecting with those we don't see all the time is increasingly essential for everyone.
A dinner gathering for Father's Day is the perfect opportunity to come together, and celebrate that special man in our lives.


2. It's the Simple Things
Want to tick all the boxes for your dad this Father's Day? It's possible to create a memorable time without going over the top.
Budget restraints, time clashes and busy family life all play a part in bringing all moving parts together to create an experience everyone remembers fondly.
Remember, celebrations don't have to be bigger than Ben Hur.
A few hours spent talking in a favourite coffee shop, or over a cold beverage and a burger may not seem like much but is a great way to spend one-on-one time together.
A simple thing like time can be a wonderful gift.


3. Foodie or Not
We all have our favourites when it comes to food. Some dads go down a simpler path sticking to the tried-and-true meals, while others are happy to experiment and taste new things.
How well do you know your dad's tastes?
Would the local hamburger place be a better fit than the newly opened French bistro?
Consider the individual. That's what will make dinner with family, or just you, something to remember.


4. Food As a Gift
We spend so much time thinking about food, preparing and eating and even learning about how to cook it better.
Given we spend all this time on this one thing, you'd be forgiven for thinking that it takes on less importance as a gift.
But au contraire my food-loving friends, the history of food shows us that it was in the past a very important sign of love and appreciation. In addition, there is evidence that the gift of food aided in negotiations and was the most basic form of showing respect in any celebration or event.
We can be happy that the old traditions of food as a gift still live on.
It's all about the experience. Dinner can be different things to all people but the most basic function of sitting down to eat still tethers us all.
The good news is we now have the ability to give the gift of food through a gift card, or simply using our own to make the day even more special.
Show your dad how much it means to have him in your life.
Looking for the perfect food gift? Consider a
Good Food gift card
and start sharing those memories.