These Are the 7 Best Restaurants in VIC to Celebrate Dad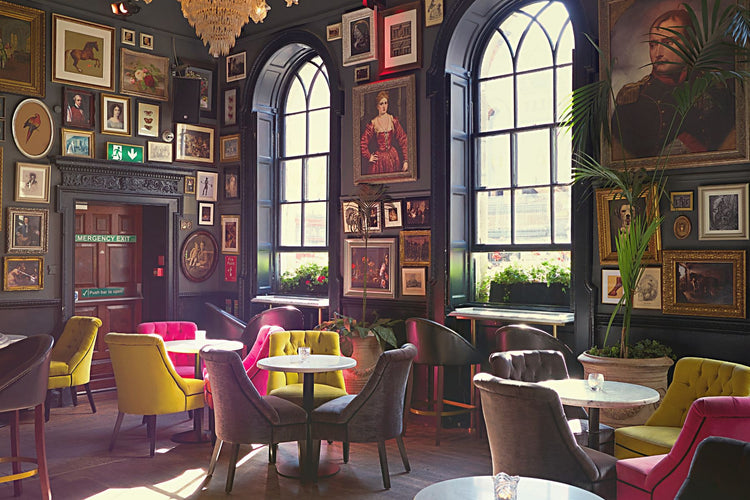 Whether seeking to tour the 19th-century laneways or seeking the adventure of national parks, wineries, and amazing beaches, Victoria will fulfil much of your touring expectations.
Located in Southeast Australia, Victoria boasts relatively cool summers and cold winters with annual temperature ranges of 38°F to 66°F. Victoria is ranked among the best places to visit and live. Melbourne, its state capital, is consistently voted the world's best coffee town.
So, this coming Father's Day, reminisce old memories with your dad in Australia's most exquisite restaurants. Let your dad soak in awe-inspiring experiences of top-class restaurants and five-star dining.
You can do all these with a Good Food Gift Card. 
So, below we discuss the best restaurants in Victoria to celebrate dad.
Here Are 7 Restaurants in VIC to Celebrate Dad
1. Tedesca Osteria
At the front door of Tedesca Osteria is a masterfully crafted piece of art. This hand-tooled thing of beauty captures every eye that lands on it. And thanks to years of excellence in art and craft, Osteria blends creativity and imagination.
The kitchen is a penchant for aesthetics and functionality when you walk inside. The kitchen merges naturally with the dining area, with the chef rolling pasta against a backdrop of timber benches.
Tedesca Osteria is a showcase of native and rare ingredients served in an ambient environment. Tedesca Osteria offers a fixed-menu dining experience, featuring excellent chefs. The servings address emerging biophysical needs, including vegetarian dishes tailored specifically to distinct categories of consumers.
There's no doubt that Tedesca Osteria is a beautiful place to wine and dine. Tedesca is about food, music, art, architecture, theatre, and joy. It's a place for studying and appreciating nature: a penchant for honour and respect for animals.
Tedesca Osteria is ultimately your dad's next dining destination.
2. Pt Leo Estate, Merricks
No one would have imagined Australia's 50-acre wine-cum modern sculpture destination would be Australia's most accessible, delicious, and welcoming venue.
Pt Leo is a carefully designed dining location with jaw-dropping views of Western Port. This dining destination covers every sense – from dramatic views to art explorations.
Additionally, there's an extensive cellar where you can taste wine from the 50 acres of estate vines. Before this, there's a lot of food to grind - whether you're seated in the quietly ambient 50-seater restaurant or dining in the 110-seater restaurant.
Pt Leo is a must-go destination this Father's Day.
3. Attica
Attica has differentiated itself as a top-class dining space. The restaurant serves unique tastings with assorted wine tastes served in a candle-lit environment. Its cool ambiance and friendly staff makes Attica a must-go for all tour lovers and adventurers.
What makes Attica an inspiring dining venue for your dad is the rich culinary experience. Attica espouses some values and belief systems that presuppose its culinary excellence.
Be good to one another

. Attica believes that everyone must show empathy towards one another. This spirit of brotherhood continues to reinforce the commitment to human service and service excellence.

Stay grateful

. Whether you're celebrating a birthday party or commemorating a graduation or wedding ceremony, Attica believes people must show gratitude to each other. One way to do this is by giving people gifts that shape their experiences – forever!

Do what you love

. Attica is a proponent of self-discovery. The restaurant believes in nurturing talent through experience. Powered by the will to support others, the restaurant believes that people can excel when they're committed to what they love

Never give up

. This is the underlying principle of Attica. Powered by years of culinary experience in serving unique flavours and assorted wine tastes, Attica is a strong proponent of consistency. Thus, expect the same consistent experience for everyone.
Attica is ultimately a go-to destination for your dad this Father's Day.
4. Lucy Liu Kitchen and Bar
Lucy Liu Kitchen and Bar is Australia's unbeatable restaurant, tucked inside Oliver Lane. While it's easy to miss out on this hotspot, you should certainly seek it out on your way to southeast Australia.
So, whether you want to try out some soft shell crab pancakes or savour kingfish sashimi with roasted coconut shavings, Lucy Liu Kitchen will satisfy your culinary tastes.
One last note: you may want to try the Kingfish sashimi with foam – it's much better than when combined with coconut shavings.
5. Chin Chin Restaurant
Chin Chin blends South East Asian flavours with art and music – ultimately matching the beats of its drums. The Chin Chin restaurant is appealing, combining great culinary tastes with a cool and welcoming ambiance. Chin Chin offers delicious starters with freshly sourced fish and seafood.
Chin Chin has a Thai-fusion open-kitchen plan with a GoGo bar downstairs. So, immediately after savouring Asia's most unique delicacies upstairs, you can walk downstairs to quench your thirst with beer, wine assortment, or cocktails.
Located in Flinders Lane, Melbourne, you can book a reservation from 11 am till late. Chin Chin restaurant blends a riotous collision of South Eastern cuisines with unique contemporary art and culture. Chin Chin restaurant offers live events with a unique signature twist.
Check out Chin Chin Restaurant if you're looking for a truly unique and rewarding Father's Day experience for your dad.
6. Anchovy
Anchovy is a historic landmark that has protected its culinary heritage as a Vietnamese-Australia kitchen. Kick-starting with the unique culinary style of chef Anchovy and his co-owner Thi Le, Anchovy remains a truly inspiring cookhouse because of its evolving history.
The restaurant has a culture of excellence and consistency, serving a wide assortment of dishes. First starting in a sparsely decorated Bridge road shopfront, Anchovy has grown to be a respected restaurant.
This restaurant offers 'back-to-our-roots' themed fixed-menu dishes. Anchovy's penchant for aesthetic, unique flavours and tastes ensures that only freshly sourced organic produce is used in dishes.
Anchovy has consistently championed the southeast Asian dining experience – ensuring unique Vietnamese-inspired dishes and Asian flavours. And as Thi Le and Anchovy take a break from a decades-old career, this restaurant remains a rewarding wine-and-dine hub.
7. Waterfront Southgate
Waterfront Southgate is indisputably Australia's most iconic seafood bar and grill. This destination offers a stupefying Melbourne experience with expansive views of beautiful mountains, mesmerising views of the Yarra river, and captivating city lights.
Waterfront Southgate offers a diverse assortment of meat and seafood. These include grilled meat, seafood platters, and sashimi served in modern dining spaces with booth seats.
Located in Southgate, Southbank Victoria has now reopened for dine-in customers following months of closures. You can now find the best assortment of drinks served with a snack of fresh seafood like fresh sashimi and scallops oysters.
And while this location may be a bit hard to find, it's worth a try. Waterfront Southgate features incredible mud crabs, friendly and welcoming staff, and excellent deco. You'll find the food perfect for all your culinary needs.
And if you're looking for somewhere to treat your dad, look no further.
Waterfront Southgate blends views of beautiful landscapes and exclusive dining.
Good Food Gift Cards – Ushering Father's Day with Pop and Colour
Good Food Gift Cards are full of love and well-wishing. The gift cards allow you to share beautiful memories with your loved ones – parents, partners, spouses, or workmates.
Good Food Gift Cards allow you and your loved ones to tour, wine, and dine in Australia's most exquisite and unbeatable restaurants. So, whether you're looking forward to celebrating your graduation or seeking the best restaurants to celebrate dad – look no further.
Good Food Gift Cards allow you to celebrate your dad in the most decorated and respected way.
Contact
Good Food Gift Card
to celebrate your dad this Father's Day.