Simple Classics Done Right at Butchers Diner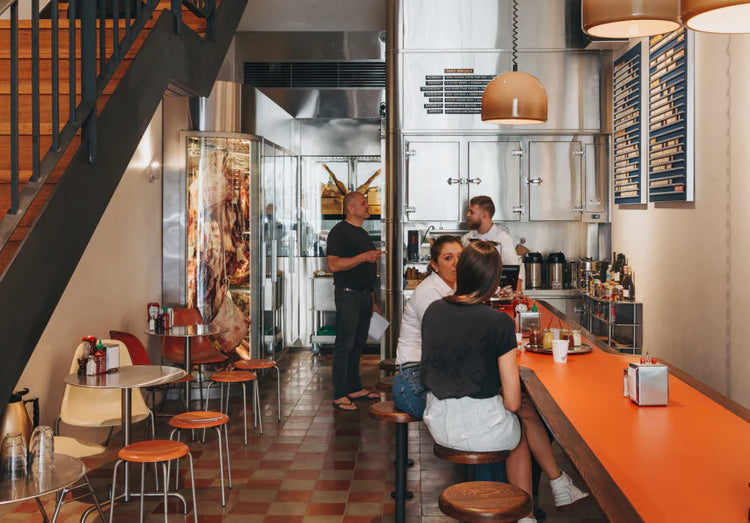 The first thing new customers may notice about Butchers Diner is the curved, almost mid-century modern dining bench and squared tiles flooring. Bright orange and strangely welcoming it conjures memories of old school American diners and dares you to dismiss an immediate sense of being in another time zone.
A contrast to the rest of the interior, yes, but it works.
That being said, is there more to Butchers Diner than simply the environment?
Some just say it's the perfect place for a late-night stomach filler when a questionable hot dog cart or fast food chain just won't do. Others keep this restaurant close to their chest and vehemently want it to remain their little secret hideaway.
It may be a little late for the latter, but both sound fair.
Anyway, let's eat.
What's on the Board
First glance at the menu and most will realise this is not just a stopover for a quick bite on the way home from an evening in Melbourne's CBD. Of course, there is a takeaway service here but the interiors and the smells wafting out command that you stop for a while and enjoy the environment and what's on offer.
Partnered with the fact there are the many food choices ranging from the comfort of a cheese toastie to the eyebrow-raising duck heart skewers, and you may find yourself seated before you know it.
Take a look at the daily specials before you make any decisions, as while they can change, the sandwiches themselves are worth dropping by for. Both the Ruben's and Club sandwich go way beyond the corned beef and pickles and chicken mayonnaise as we may have known them, with their girth alone reflecting a true American style hunger-busting meal on their own.
Long live pastrami.
Hungry for something different? The blood sausage and devilled egg roll will sort that out, as will the flavourful steak sandwich.
In fact, this may become the only place you'll ever want to eat on a late night out again. The grilled octopus and house made Lap Cheong may give the aforementioned a run for their money but if you are a burger lover, they stand proudly here as some of the best.
Side orders are plentiful and are a refreshing point of difference to other places where the choice is chips, chips...or chips.
Give the warm potato salad a chance. The flavour is a nice change from the cold variety while the Greek salad is a food group on its own.
Don't worry, no one has forgotten about those with the need for a meal ending sweet.
Take advantage of the lemon gelati for a palate cleansing end to the meal but if you have room, the sticky date pudding or tiramisu may become your new Butchers Diner favourite.


A Diner with a Difference
Literally showcasing Australian meat at its best, diners here will no doubt notice the range of aged beef proudly displayed in a glass cabinet.
Not to take anything away from all other offerings here, but a juicy steak continues to be one of those defining dishes for any eatery. Butchers Diner is no different.
We all want what the heart wants and a perfectly cooked steak is high on that dining out list.
Be entertained by watching your steak be hand selected, offered at market price and cut fresh daily by the butcher. Hungry customers can select their choice and enjoy what has quite modestly been referred to as simple classics done right.
Dinner and a show? Perfect.
Is this establishment a nod to the U.S. diners often seen in movies and so rarely done right elsewhere?
If that is the case, customers are more than happy to partake. Most come back for more on a regular basis, trying something different each time, but there are diners who decide on one dish that they must have every time.
It has been noted that this is a preferred cash only establishment which may upset some people, but for those who still believe cold hard currency is King, it's a welcome relief from the forced electronic transaction lives we appear to lead.
Either way, once you've satisfied your hunger here, you won't care.
For the late-night feeders, the bored, restless, or lonely, the news is good. You now have a haven.
Where: 10 Bourke Street Melbourne, VIC
Cuisine: American Burgers, Steak cut and made to order, daily specials.
When: Eat in or takeaway. TUES – THUR 12 PM – 12 AM FRI – SAT 12 PM – 1 AM.
Phone orders: 03 9639 7324
Looking for the best place to take your
Good Food gift card
? Check out the restaurants in your area.