Kirk's Wine Bar Good Food Restaurant Gift Card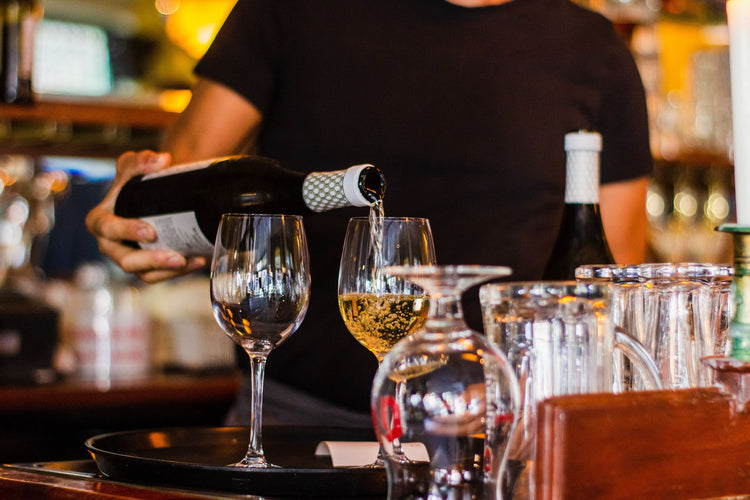 Diners may think there are endless choices for a reasonable place to grab a drink after work, or before seeing a show when out in Melbourne's CBD.
For the most part that is correct, but if you would prefer somewhere a little more dedicated to what is poured and the ambience associated with what's in the room, there is an alternative.
Kirk's Wine Bar offers exactly that.
This is the kind of place you would gladly live in should it co-exist among the chic, old-worldly European dwellings of days gone by.
Small it may be, but it has the ability to transform its visitors.
A corner delight, and one not to miss when in Melbourne's CBD for the first time, or in fact any old time.
Do great things come in small packages?
Maybe it's time to see for yourself.
A Wine of the Times
For those who have frequented wine bars of old, there is something special about entering these premises. Done right, the atmosphere is that of a 1950's high-end place to sit and relax for more hours than today's time-pressed society would ever allow.
Choose from a selection of wines sourced from vineyards both international and local. The options here are vast.
Sparkling wine lovers are not forgotten, and the varieties sit happily among their red, and white cousins.
Both old and new wines are found here and are harmonised effortlessly with highly knowledgeable staff and interested patrons more than willing to take their recommendations.
Can a wine bar be described as intelligent?
This one sure seems like it would be more than happy with that description.
Fancy a Bite?
A wine bar wouldn't be complete without some nibbles, or indeed a full meal to accompany the fine vinos.
French bistro all the way is what diners will find within the menu of Kirk's Wine Bar.
Where to begin?
Sample the popular Charcuterie Plate of your choice. Yes, there is a choice of plates.
Snapper Tartare coupled with pickled grapes and artisan bread sounds interesting, or the Black Fig with Buffalo mozzarella sounds more like it.
For the seafood lover, the next decision is easy. Mussels Mouclade with grilled sourdough,  and an accompanied salad fits the bill. For something seasonal, ask about the fish of the day.
Meat lovers will appreciate the traditional Steak Frites, and everyone will love the selection of cheese for that perfect wine accompaniment.
All wines here can be paired with a shareable plate, fresh cold oysters, simple olives or roasted nuts.
One look at this menu and you may find yourself hungrier than first thought.
For an after-work tipple or something more, Kirk's Wine Bar works for everyone.
Every Old is New Again
For history buffs, there's more to Kirk's Wine Bar than meets the eye.
The corner building may seem quaint and even the perfectly curated space for such an establishment, but it does hold a lineage worthy of telling.
This modern and stylish establishment we see today was once the home of Kirk's Bazaar Hotel, a staple of Melbourne's pub life, in fact one of the first.
Even the street had a past life with Hardware Lane only known as that in 1927. Previously this location was known as Wrights Lane.
The area was renowned for its pubs and hotels and thankfully Kirk's Wine Bar now keeps the tradition alive.
Today, this bar breathes new life into one of Melbourne's much-loved laneways and back alleys.
Why Do We Love a Wine Bar?
If you think the local pub is the be-all-and-end-all for Australians wanting to wet their proverbial whistle, it would be a fair call, but a wine bar simply and without fanfare, offers an alternative.
Not surprisingly, discerning wine drinkers and peaceful, no noisy crowd lovers are opting for the change in scenery.
Well considered food pairings are welcomed as is the chance to stay local where possible.
Beyond that, a smaller more intimate venue seems to suit many just wanting a quieter time of it.
If you offer all these things?
You're on to a winner.
As more and more establishments offer different ways to enjoy a quiet drink, the people will follow.
Where: 46 Hardware Ln, Melbourne, VIC
Cuisine: Fine wines and French bistro accompaniments
Book: No bookings available. Just drop in. Open Tues to Thurs 12.00 PM – 10.00 PM, Fri to Sat 12.00 PM – 11.00 PM
Ph (03) 9600 4550
Are you
looking for a place to take your
Good Food gift card
? Check out our range of venues. You will be sure to find something that suits your next night out.