9 Incredible Restaurants to Host a Staff Dinner & Celebrate EOFY 2023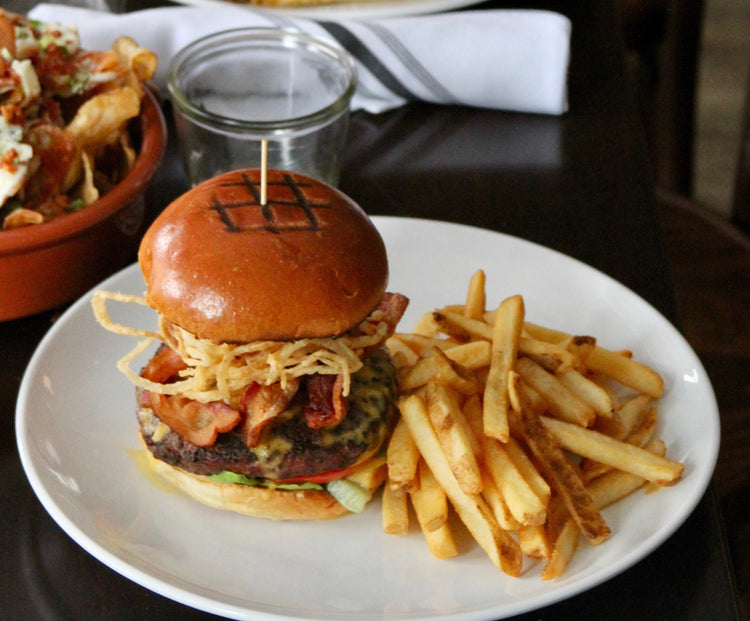 Celebrating the end of the financial year gives employers the opportunity to show appreciation for the people who play a huge part in the success of any business.
The staff.
Plans involving celebrating as a group in the form of the best restaurants for employee outings can leave some bosses with mixed feelings.
How am I going to make this work? Will it be like herding cats?
If you think this idea may be a logistical nightmare, it doesn't have to be.
All it takes is a bit of planning.
The end result? Happy workers make happy businesses.
So where can you go?
For when a run-of-the-mill pub just won't do, here are a few incredible restaurants to get you thinking about where to celebrate your EOFY  staff dinners with the ones who matter the most.
Dining with a Difference
1. The Apollo
A Greek food lover's paradise, this popular restaurant has the capacity to house large groups without feeling crowded.
The atmosphere is excellent, as is the food, with the lamb shoulder being a must-try. The banquet menu will suit those who wish to eat rather than waste time on the menu. There will certainly be no empty tummies with this restaurant.
This venue offers all dining, so be prepared to not head back to the office as soon as you may have thought.
Definitely, one to consider.
Where: 44 Macleay St Potts Point, Sydney
Cuisine: Greek, Mediterranean
2. Carriage Works
Along with providing a history lesson and large conference venues within the one piece of real estate, Carriage Works offer an excellent café for medium to smaller groups.
There is also the offering of their Theatre Bar for a full-hire experience. The outdoor (but undercover) seating area has been known to host an odd celebrity chef, much to the surprise of conference goers.
A place offering a definitive difference well apart from the ordinary restaurant-style staff dinners.
Where: 245 Wilson Street Eveleigh, Sydney
Cuisine: Bar available, Café style food
3. Lilymu
Out of town, west to Parramatta, the restaurant searches with soon find Lilymu.
This venue has been called the best in the area, and it's not difficult to see why.
The menu is as pretty as it is extensive, and the food does it full justice.
Chinese and South East Asian cuisines are given the full spotlight here but shares its space with the array of fresh fish and seafood counterparts to create a feast for both eyes, body and soul.
The venue is perfect for catchups with colleagues or that special celebration with staff.
This is all with moderately priced banquet menus, and we have a standout dining experience in the area.
Wear loose pants. You will want everything on the menu.
Where: 153 Macquarie Street Parramatta Square, Paramatta, NSW
Cuisine: South East Asian, Chinese
4. Gavroche
A French experience without the need for a plane ticket? Do we have a place for you!
There is something special about a restaurant housed in a part of Sydney's history that somehow still remains relevant. Maybe it's the attention to detail and effort not to bury the very elements that make it so inviting.
This restaurant is housed in the Old Rum Store, bringing with it the elements of the past and connecting them to a new and modern Parisian life.
With menus very well suited for a shared and entertaining evening with staff, Gavroche will cater for all events on your calendar. Chose the function menu for ease and select from the standard, Premium or Deluxe three course offerings.
Where: Level 1/2-10 Kensington St, Chippendale. NSW
Cuisine: French bistro
5. Spice World
Want Quirky with your dinner? You've come to the right place.
Sydney's China Town welcomes you to Spice World.
Greeted by robots wandering around (yes, robots), this large space is one for large groups wanting something very different for their celebration.
As a hotpot restaurant, it's all in and diners seem to love it. It may seem like it's about the environment rather than the food, but you will soon learn one does not outshine the other, it merely compliments it.
The presentation of the food will have you remembering this place for years to come.
If you like pink, you'll be in China Town heaven.
Where: 405-411 Sussex Street, Haymarket
Cuisine: Chinese, Hotpot
6. Chin Chin
If hatted restaurants are the only way to go for you and your staff, then Chin Chin may fit the bill.
This is a lively venue with lots of chatter and diners clearly enjoying the Asian fusion fare.
The restaurant's interior environment is fresh and, some say, even pretty and feels right at home within the walls of the old Heritage-listed Griffiths Tea building.
It may be difficult to choose from the menu, so plan and go for the banquet solution, although the Massaman curry looks like a favourite.
If cocktails are a part of the EOFY festivities, there's plenty on offer.
Chin Chin!
Where: 69 Commonwealth Street, Surry Hills. Sydney
Cuisine: Asian fusion
Dinner and a Show
Interactive, engaging and a genuine great night out is what you get when you combine dinner and a show with some of Sydney's favourite dinner/theatre restaurants.
Some are not for the faint of heart, so choose carefully, but when all is said and done, this type of group dining is an entertaining tummy-filling adventure that must be had at least once.
7. The Birdcage on York
Three minutes walk from the Queen Victoria building will have your staff bathed in burlesque-inspired delights.
Prepare to be included with audience members called upon randomly for some fun and frolicking.
Enjoy the three-course meal at reasonable prices whilst beholding the night's performances.
Oooh La La
Where: 95-99 York St, Sydney NSW 2000
Cuisine: Traditional Australian Bistro fare
8. The Magicians Cabaret
Watch magicians perform their trickery with the whole team in this very different way to enjoy each other's company.
Dinner and the show lasts around three hours, with the food on offer a delightful foray into French cuisine.
Vegetarians and vegans are not forgotten with something for everyone's dietary requirement.
Entertaining, at the very least, is everything you loved about magic as a kid and more.
Smoke and mirrors? Yes.
Where: Suite 108/32 Pirrama Rd, Pyrmont NSW
Cuisine: French
9. The Imperial Hotel
Fun at the Imperial has never looked so good. A favourite pub among Sydneysiders but with a twist.
Enjoy the Drag and Dine dinner with staff while being ceremoniously waited on by the best drag queens in the business.
The food is far from ordinary and will satisfy the hungriest and choosiest of those who partake in the experience.
For something different, you can't go past this one.
Where: 35 Erskineville Road, Erskineville, NSW
Cuisine: Vegetarian, Upper-class pub food
Celebrating as a Workplace Practise
There's no greater opportunity than food to allow colleagues the chance to bond and learn more about each other's lives. Too quickly, a workplace can become a place where people clock in without making real connections. It is no one's fault, but it can be remedied with an event scheduled on a regular basis.
Celebrating those milestones in your business will evoke a sense of belonging and worth to employees. Making a regular occurrence will cement those feelings.
The perfect group dining venues are easier to find than you think.
It's not easy to cater for large groups of people but some venues certainly make it seem easy.
So, raise a glass and celebrate the EOFY with your staff this year. 
What better way to celebrate your staff than to let them experience some of the best dining in the city? From traditional to the eccentric, there's the perfect venue for your crowd.
Get a
Good Food Gift Card
to help celebrate your staff and everything they do for your business.