Your Corporate Event Isn't Complete Without These 4 Food Items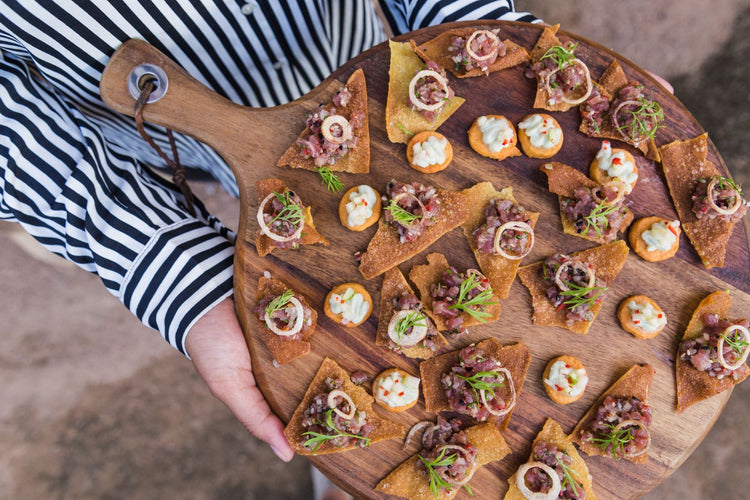 Even at a corporate event, food has a way of bringing people together. From the beginning canape to the end of evening coffee and mint, food will continue to bind groups of people in all settings.
Apart from a frosty Mojito or a glass or two of WA's finest Shiraz, it's the food that is relied upon to start conversations and set a mood for the day's or evening's happenings.
Whether it is breakfast, brunch, lunch or dinner event, food choices can be a powerful tool. Food choices can evoke memories, start debates and turn colleagues into friends.
It's the corporate catering version of Monday morning gathering around the water cooler.
Can you please all the people all the time with a corporate menu? Maybe not, but you can certainly have a lot of creative fun trying.
So, what are the essentials that will turn the restless corporate event guest into an unashamed I-need-to-make-this-at-home convert?
A pinch of creativity, a dash of social awareness and a large sprinkle of imagination.
Just for starters.
1. Something Old, Something New
Appetisers are a given at any event. Whether a morsel before the main to whet the appetite or a simple breakfast slider to begin the day's annual corporate meet and greet, a canape can set the tone and get people talking.
They are always a welcome sight, but how about we make things a little more interesting?
Yes, retro is still in. Will it ever leave us? Probably not. Not while there are seekers of comfort food and nostalgia, and let's face it, that is most of us some of the time. So, what warms the cockles of a heart better than a hot toddy on a freezing night?
Comfort food revisited to meet today's corporate catering demands.
The humble prawn cocktail. Yes, it's divisive. Eyebrows raise at the mere mention of it, and that is generally coupled with a quick shake of the head in disbelief that it dares show its prawny, saucy face.
The difference between today's prawn cocktail and the ones of old is usually in its appearance. A canape-sized, fuss-free easy-to-eat piece of heaven served on a catering spoon will transform the haters into converts once again.
The same can be said for any old-school favourite. All it takes is a bit of imagination.
Duck al 'orange can be presented on a bite-sized crispy lettuce cup, and a mixed mushroom ragout can fill a voulevant with the grace of yesteryear.
What's the point here?
Transform what people thought of as old-fashioned and tired and bring them back to life.
They'll all be gone in seconds.
2. Celebrating the Plant-Based Options
Diners choose a vegetarian, vegan, or plant-based option for several reasons. Beyond the dietary requirements, vegetables and meat-free are now a common option for corporate caterers who understand not only are people more aware of what they are consuming but more welcoming of alternatives that were once never given a second look, let alone a first.
Gone are the days of tomato slices and lettuce leaves for vegetarian guests. Not having a range of vegetable options means risking alienating guests and causing distress to those with specific medical requirements.
Recipes abound for creative and delicious ways to combine seasonal, locally grown and organic food into corporate catering that prides itself on satisfying everyone, not just the carnivores among us.
To really celebrate the meat alternatives, why not make the entire event menu plant-based?
It's important to provide options for all diets. Gluten-free and nut-free are two of the biggest requests next to having vegetarian options for guests.
Whether it is for personal health choices or medical conditions of your guests, peanut-free and gluten-free catering means everyone gets to enjoy the food, and no one is left behind.
3. Pick a Trend, Any Trend
Food trends are a thing. Like any other, they change frequently. They are likened at times to that distant relative who occasionally shows up at a family gathering. They arrive uninvited, make their presence known and disappear as quickly as they came.
The difference is that when catering for an event, food has a way of lifting and elevating the mood to another level.
So, what's trendy in catering?
Here are a couple of ways in which something special will remain on your guest's minds and in their socials for some time to come.
Choose to have a guest chef at the event. Whether a well-known local restaurateur or an iconic national treasure, Australia loves a chef. Having a famous face conducting a chef's table is like having a real-life cooking show of your own.
Go National. Now having an event where the food is one particular national cuisine is making the rounds as a fresh way to enhance any event. As an example, Japanese foods can be showcased in the form of bento boxes for all guests. Fresh sushi, edamame, rice balls with seaweed and noodles can be perfectly displayed in each of the bento's compartments.
The great thing about it is that you will cover a range of dietary requirements.
Having a morning event? Breakfast bowls are becoming the hottest competitor to the old staple of tiny quiches and muffins. Granola stations, smoothie bars, and blend-your-own-juice pop-up tents give guests a chance to experience something different.
4. Sweets For the Sweet
There are not too many people who don't like a little something sweet at the end of a satisfying meal. Like those with a need for an after-dinner coffee, a dessert signifies the end of the event.
Small and delicate custards, fruity flans and chocolate-covered strawberries may lend themselves to the more traditional way to go but are a crowd-pleaser at any event, large or small.
Seasonal fruit cups are always a winner, as is the timeless mini cupcake.
Sorbet and ice creams are a nice palate cleanser, but the realities of melting into an unappetising puddle tend to leave these out in the cold to be offered at another time and place.
Dessert trucks for the less formal event are a novel way to bring a smile to guests' faces and will have people reminiscing about their childhood favourite street vendor.
Mr Whippy rules.
Are desserts necessary at a corporate event? No, but do people gravitate toward a dessert cart or display before anything else?
Always.
When the event is ending, a dessert is a way of saying thanks for attending. Here's a little something to remember us by.
The standard chicken, fish or beef options for corporate catering have come a long way. We find it ever-evolving and creative in today's corporate catering, and that's just how it should be.
Not hinged on any particular trends, but aware of them all and not afraid to mix a bit of old with the new will always win no matter the event.
To be different is to be memorable sure, but to cater for all and not just some is what it takes to cater to a truly outstanding event.
What's the end game here?
To have your guests celebrate the food as well as the event.
Want your guest to continue to enjoy the food they've seen today?
Why not give them a corporate gift with a difference in the form of a Good Food Gift Card?
Giving the gift of food never goes out of style.