Need to Host an Event? Consider These 8 Restaurants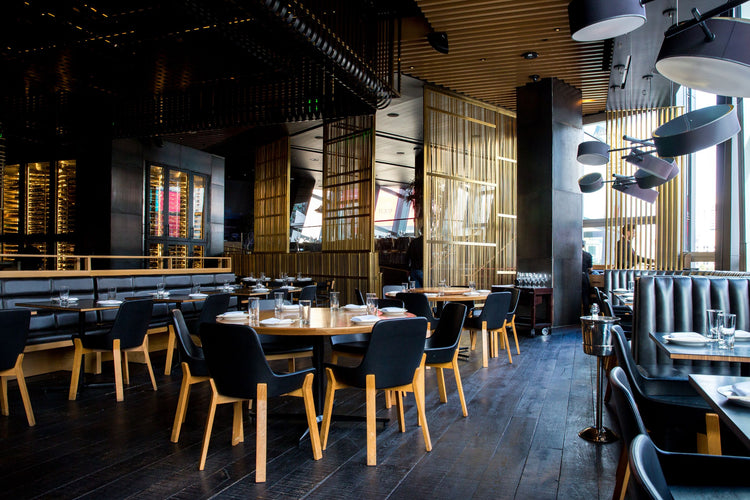 Looking for a suitable venue space for an upcoming event?  
For those who start to sweat at the mere thought of locating the perfect restaurant, never fear.
Take a deep breath. We're here to help.
Let's look at some of the best options for your next event, large or small, local or interstate.
For a memorable event everyone will be running back to long after the occasion, consider these options.
Let's start on the east coast.

1. Wave Us In, Sydney
In Sydney, our port of call is the Harbourfront Seafood Restaurant. Proudly located at The Rocks, the only thing that will take your gaze away from this pristine facility will be the views folding over this restaurant almost protectively.
Hey, don't judge a book simply by its cover, right? Don't worry inside is just as stunning.
Catering from upwards of 10 guests, this venue is well equipped to being on your top five venue list and staying there.
Iconic, yes, but even more than that, this restaurant is a must-do for seafood loving guests with an even greater fondness for a casual but sophisticated dining experience.
What's better than the perfect restaurant venue? Ambience and a history lesson with every visit.
Location: Bay 1-3, 7-27 Circular Quay West The Rocks, Sydney, NSW

2. Welcome to the Sunshine State
For those looking for a restaurant venue in and around Brisbane, be prepared to be spoilt for choice.
From pubs to fine dining and fit-for-purpose corporate venues, this city shouts versatility from every corner.
Take a look at Ecco Bistro.
A'la carte options and tasting menus provide something for every event with the option of three, four or five courses. From kingfish to kangaroo your guests will leave the event with a satisfied smile not just from the fare, but in knowing this restaurant celebrates local growers and suppliers.
Location: 63 Skyring Terrace, Newstead, QLD
Let's head south to the ACT, Victoria and Tasmania and explore the options for your next event.

3. The Power and the Glory
The home of parliament and the annals of history. What more can be said about Canberra that hasn't been already?
For when you want to escape Sydney's city limits or simply want something different, Canberra may be the perfect place for you.
The Boathouse is perfect territory for local events or for when an out-of-town venue beckons.
Able to cater for small, medium or larger groups this restaurant takes full advantage of the area's local produce serving food reminiscent of higher-end international premises.
A gorgeous venue with views to match, the Boathouse is more than worthy of being listed as a serious event option.
Location: Grevillea Park, Menindee Dr, Barton ACT 2600

4. Get Out of Town
Heading out of Melbourne just because we can, our sites are set firmly on the Mornington Peninsula.
Well worth looking outside of the city, the area is becoming a favourite for event planners and foodies alike.
The venue of choice for the area is Ten Minutes by Tractor.
With an ever-evolving menu this out of the hustle and bustle venue is perfect for those who like sophistication with a little difference. The best in seasonal produce with options a-plenty, this will make anyone's top five list of contenders.
See you there.
Location: 1333 Mornington Flinders Road, Main Ridge, VIC.

5. The Apple Isle's Finest
Have your next event surrounded by history, atmosphere, and the best in Australian cuisine this side of the black stump.
Tasmania's food journey has progressed significantly, naturally, to the contentment of restaurant owners but also those who wish to partake in the considerable venue spaces.
One for the list is Pearl & Co in Hobart. Local sustainable seafood prepared with enjoyment at top of mind, this restaurant is perfect for smaller groups. With a side of water views, there's not a lot more to say.
Perfectly located within walking distance of major accommodation, this event option is one that can be easily transported from a day event to a full-blown stay and play affair.
Location: The Mures Building. Victoria Dock, Hobart, TAS.
Moving back to the mainland, South Australia's options are becoming some of the most favoured for both locals and visiting restaurant venue seekers.
6. The Gateway to the West
South Australia has become synonymous with wine country and for good reason. The world class beverages born of this state deserve all the accolades past, present and future.
Let's head for the hills to Mount Lofty House. Located around 30 minutes from Adelaide, this venue offers the charm of the countryside with the elegance of a venue straight out of your most flawless imaginings. Take your pick of restaurants within this 30-acre paradise.
Hardy's Verandah, Piccadilly Restaurant or Martha Hardy's Kitchen.
If you're looking for a venue that has everything you need, nothing you don't, and then some. This may be the one for you.
Location: 1 Mawson Dr, Crafers SA 5152
Go west, young man. Let's head over to the West Coast and explore our most Northern of territories.


7. Come For the Venues, Stay for the Quokkas
For our venue in WA, we are staying in the lovely Perth CBD. Share-friendly cuisine in the shape of Greek, Mediterranean and Moroccan is the order of the day and there's none quite like Hadiqa.
Indulge in the lamb tagine or devour the saffron fish. The food here is not your everyday fare and is well worth the experience your guests will receive from this venue.
Chose from a few rooms to suit your event or go all in and seat guests in the main area or outside under the stars.
Western Australia is fast receiving the culinary recognition it deserves.
Location: 440 Murray Street Perth, WA.

8. Some Like it Hot
Ready for the Northern Territory? If you thought Alice Springs was only for those looking for a quick stopover on the way to further points North, you may be surprised.
Casual dining made for everyone is found at Epilogue Lounge. Perfect for less formal events with options for both indoor and outdoor feasting, it should not be overlooked.
Friendly staff and an ease not found in larger city venues will be refreshing.
Set your sites on the NT for your next event.
The difference and experience your guests will receive will be unforgettable.
Location: 58 Todd Mall, Alice Springs, NT.
So, there you have it. With so many options in every state and territory, this short guide to some of the best choices in venue spaces is the perfect jump off point.
Go forth and book!
Got a Good Food Gift Card? Why not put it to good use and book an event to remember?
It's the perfect accompaniment to any venue space.