Lucky Prawn Brings People Together With Shareable Plates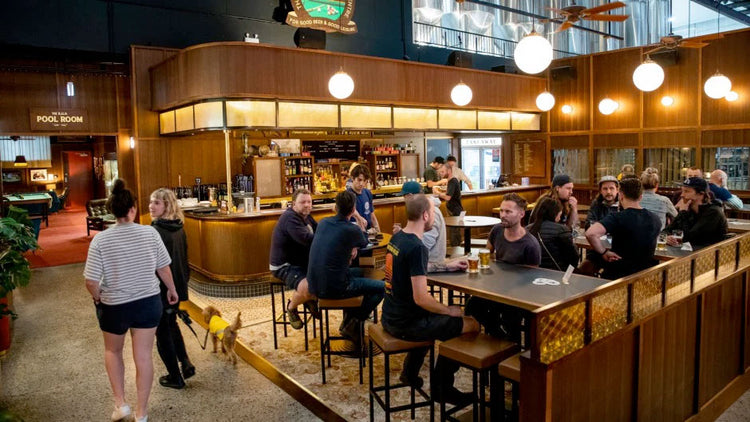 What do people find so appealing about the Lucky Prawn? The location is certainly a nod to its namesake, the Bob Hawke Beer and Leisure Centre, but more than that this restaurant has become a way to travel back in time to the much-loved 1980's Chinese restaurants, profoundly popular in their day and somewhat missed by lovers of the cuisine.
Traditional décor invites diners to stay reminiscing under the Chinese lanterns, while this bistro's lazy Susan enabled tables beckon all to a feast from days gone by.
The restaurant space itself is airy with other levels exposed which lends itself to never having diners feel overcrowded. Multiple rooms make for numerous forms of entertainment around the venue, which is fortunate because, believe me, this place gets busy.
Now there's even more to love with a majestic golden prawn looming largely for visitors to admire. For an added laugh this shining, animatronic, overseeing God has a larrikin name to match – Shane Prawn.
When is a giant crustacean never out of place?
At the Lucky Prawn, of course.
Let's Eat
Now to the good stuff.
All your favourites can be found here, with those in the know gathering frequently for the beef in black bean classic, Sweet and Sour Pork like it should be, and the always popular San Choi Bao.
Naturally, all can be accompanied with the traditional prawn crackers, made just how we like them.
Ahh the good 'ole days.
By the way, if you do not partake in the prawn toast, it may just be considered a sin.
For diners with a more exotic taste, the XO Prawn Chow Mein and the crab omelette are worth a closer look.
Sharing is Caring
There's something comforting about a gathering of people at a restaurant, sharing plates of food. The noise from others, the oohing and ahhing when food is proudly brought to the table.
The banter and chatter about who doesn't like what and the age-old conversations around who wants the last spring roll, all take lovers of real Chinese restaurants back to the days of old.
Don't come here unless you are willingly prepared to share each dish.
Why shareable plates?
Australia has a love affair with shareable plates, with the evidence appearing on the menus of many restaurants today.
In fact, there seems to be a bit of a history with it and why diners enjoy these new ways of eating.
Is the reason that everyone can try small morsels of different foods or is it the inevitable conversations had around this type of eating?
Probably both. Likely more.
Regardless, it all points back to our love of food and the relationships that are created when we converse unhurriedly over the offerings of the day.
What a way to bring people together.
There are lots of reasons to visit this establishment. Now there's another one with the announcement of the much loved Yum Cha service.
Come one, come all for that epitome of shared plate feasting that no one can ever seem to resist. The first Sunday of the month should be now in your calendar.
Does the Lucky Prawn strive to be at the table with the best of Sydney's Yum Cha available? Sure, it does...and gladly it is on the right path.
What are you waiting for?

Is there beer here? You better believe there is. Eight kinds to choose from while you await your meal.
The Lucky Prawn, much to the applause of all who frequent here, is fully licensed.
Speaking of waiting, if you have a small group in tow you may want to play some pool while the table is prepared. There is a waiting list for booking of more than four.
This may be a slight annoyance to some, but it doesn't seem to show.
If all this is not enough, I did hear someone mention there is deep fried Viennetta on the dessert menu, but a word of warning, fair diners, do not try this at home. These are professionals.
If you are looking for a relaxing place to visit for the day or to make your next go-to restaurant in the inner west suburbs of Sydney, you would be hard pressed to find a more perfect venue.
Behold! The golden waving prawn…and enjoy the beer and food while you stare.
Run to this restaurant. Now.
Where: Located inside the Bob Hawke Beer & Leisure Centre 8–12 Sydney Street Marrickville
Cuisine: Old school Chinese Australian
Book:  The Bob Hawke Beer and Leisure Centre is located at. It's open midday–10pm Sunday–Tuesday, midday–11pm Wednesday and midday–midnight Thursday–Saturday.
Looking for a great Chinese restaurant to use your Good Food gift card. Look and see what restaurants will suit your next dining adventure.