Leonie Upstairs: Sake, Sushi, and Spirit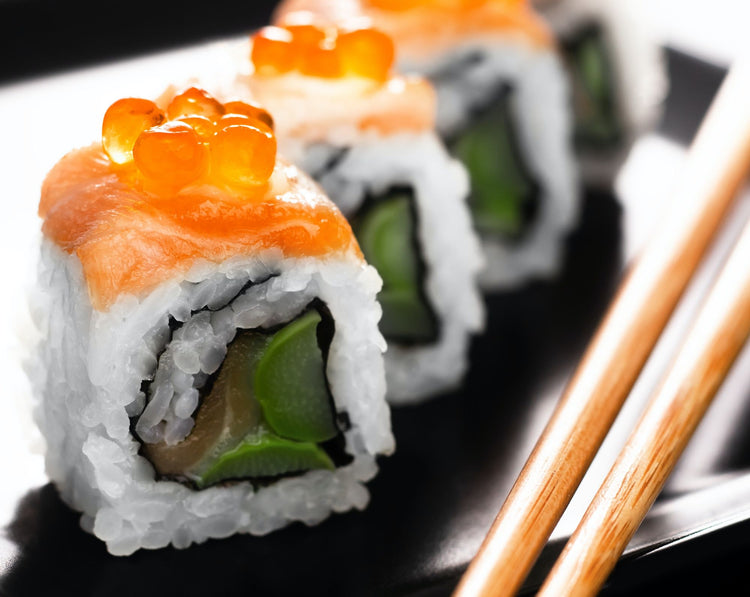 There's a lot to be said about this unassuming Japanese eatery and Sake bar, Leonie Upstairs.
Don't let its size fool you. It packs a larger punch with its delivery of a welcoming and very much alternative venue.
History tells us this restaurant was born from love, its namesake striving for equality and bucking tradition in what was a man's world, then going on to raise a prominent Japanese artist Isamu Noguchi from whom Leonie's takes the free spirited charm and point of difference.
Food and Sake pairing at its best now resides in Melbourne.
Sake, Sushi and Spirit. A 'reimagining of Japanese dining', indeed.
So, sit, relax and stay for a while. You won't be the only one.
Plate After Plate
Not afraid to pair ingredients with others first thought to surely be enemies, Leonie's doesn't only combine them, but makes them lifelong friends.
Explore if you dare, the temaki sushi consisting of sea urchin and sea grapes or go for the soft-shell crab with a tasty curry mayonnaise.
A standout would be the Beef Tartare accompanied with sweet potato chips. Who knew?
A close second for late night diners would be the deboned and stuffed chicken wings. Perfect with a beer.
Try the raw seafood in the form of kingfish and scallops perfectly seasoned and ready to be partnered with the best Sake in town. The option to make your own temaki sushi is an excellent offering in which many patrons partake.
Small plates, one off taste sensations or a selection of sushi awaits. The anchovy toast will likely become a favourite. Its salty, lemon zest and caramelised onion delight hits the spot after a night in the city.
If you like a front row seat, try to place yourself at the bar where you can witness all the kitchen magic.
Vegan, dairy free, vegetarian and gluten free options are available, with traditional Japanese accompaniments sure to please all tastes.
Finish off the meal with something sweet.
Whatever you choose, don't forget about the broth. It's worth the climb up the stairs alone.
Sake Anyone?
Much more than merely an accompanying beverage for the much-loved Japanese plates, here, the Sake has its own territory... and owns it.
It is sincerely refreshing to have not only such a choice of this fermented rice drink but to have them painstakingly explained and paired precisely in order to enhance any food selections they may accompany.
Tasting guides help the uninitiated as does the knowledge and service with a smile. Yes, Virginia, it does still exist.
Recommendations?
The menu apparently changes so the best thing to do would be to seek guidance on offer, but the warm Sake on a colder evening would be something different for those who do not partake often.
For that summer tingle go for the sparkling sake.
The range is a surprise to most diners here, who expect maybe one or two offerings in other Japanese establishments.
Arguably the main reason many come to Leonie's.
For those who favour other Japanese beverages a range of Whisky and Gin along with the standard shochu which many Japanese restaurant diners would find familiar.
Beer and cocktails are served, but do not expect to find your favourite bottle of Penfolds here.
Who needs it, anyway.
Why Sake?
Spotlighting Sake is not meant to diminish the food served at Leonie Upstairs, but more about a chance to enhance it and to educate diners of the potential power of the combination.
Visitors and regulars will learn that Sake is consumed at varying temperatures. In fact, warmed Sake can transform in taste and is considered an essential when paired with a comforting hotpot or welcomed hot soup on colder nights.
The same one can be cooled and enjoyed as cold as possible when regular spirit combinations just don't cut it.
There is an old Japanese saying that states proudly that Sake is the 'King of all Japanese medicine.'
It has also been said that a glass of Sake can be super relaxing with an additional core enzyme that may help reach areas of the body to help with digestion.
For this reason, it may be recommended to take two Sakes and call us in the morning.
Regardless of the value for those who enjoy Sake, the whole mind, body and spirit will benefit.
Beyond Food & Sake
One of the things that stands out the most is that this establishment evokes a calmness. Hard to pinpoint at first, nonetheless it is very real. The interiors seem to house a breath of inner peace. A home to a tangible stylish spirit of sorts, Leonie Upstairs goes beyond a relaxed establishment and is something of which does not go unnoticed by many who visit.
If only we could bottle that essence. Would the world be a better place?
Leonie Upstairs really makes me want to say it…Wait for it…Here it comes...
Ahh…the serenity.
Where: Upstairs Level 1 15-17 Lincoln Square South Carlton 3053
Cuisine: Japanese
Book: Online bookings only. Due to the size of the venue Leonie's Upstairs cannot cater to groups of more than six.
Explore the best restaurants in every city and don't forget your
Good Food Gift Card.
The finest in food and beverages are waiting for you.