Deeply Flavored and Not Too Saucy at Lulu's Char Koay Teow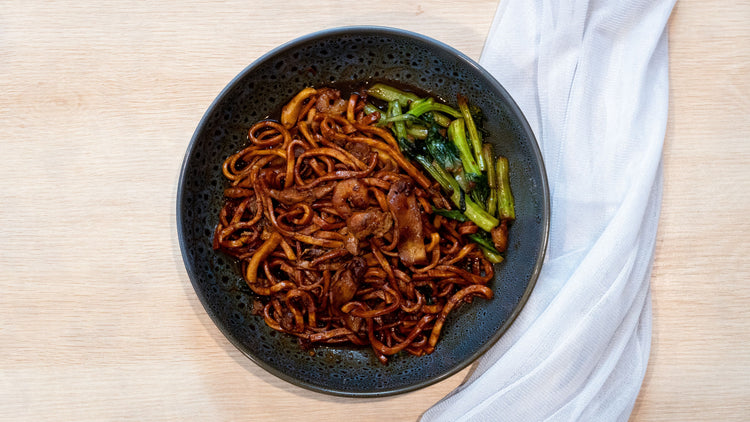 If the quieter end of the street is more to your liking in a big city like Melbourne and you have a penchant for delicious Malaysian fare, or even a sudden craving then Lulu's Char Koay Teow is the place you've been looking for.

As its name suggests, the signature dish is the ever-delightful rice noodle favourite Char Koay Teow or sometimes playfully known as CKT for those familiar with the cuisine.
Take a day or night to experience Malaysian cuisine without ever having to leave inner city Melbourne.
The best Char Koay Teow in Australia? You be the judge.
The Signature Dish that Started It All
'Char' means to stir fry and 'Koay Teow' refers to the recognizable staple and star of the show, the flat rice noodle.
Supermarkets have long made the noodles readily available for some time which had made the home cook and adventurous Malay and Southeast Asian wanna-be-chef delighted, but nothing ever comes quite close enough to the reality of this dish executed and prepared the way it was meant to be.
Why?
The flavours are deep, the feelings of comfort are real.
Not drenched in sauce but rather slyly perfect in its application almost to taunt the aforementioned home-attempts, it is no wonder many Melbournians prefer this Malaysian dish over others.
What's it All About?
If customers had to pinpoint why they return, it would probably come down to the technique used to cook the dish, the authentic flavours, and the tools of trade.
The smokiness and charred flavour, called the 'breath of the wok', due to stir frying over open flames give this dish and others at Lulu's that distinctive taste.
Taming the fire and the wok is an art form with Asian chefs recognising the skill and the ensuing essence from an early age. It is the spirit of the technique that is at the heart of every one of Lulu's dishes.
The result?
Noodles are perfectly cooked. There's no overworking them here and your choice of vegetable, seafood or meats marry perfectly with the flavourful liquid accoutrements of this delicious stir fry.
Diners can choose to sit inside or out, or if you elect to bring your favourite home, make your way to Lulu's in store collection point.
Just so you know, the portions are formidable. You will never walk away from here wanting a cheeseburger on the way home.
This could easily become an addiction.
Beyond the  Char Koay Teow
Some people say your first love is always with you, so if you have been there, done that and bought the Char Koay Teow t-shirt, figuratively speaking, there's no shortage of other dishes to forge a place in your single-minded heart.
Let's see what else is on offer. For scientific, and research purposes only, of course.
Stir fried hokkien noodles with your choice of…well, anything you like are an option as are the soup dishes, laden with king prawns, spices, and vegetables you will come back for.
Try the duck egg Char Mee or opt for Lulu's Penang clam Curry Noodles.
The choices are vast and the flavours and ingredients differ so much so that there's no room for boredom at this establishment.
Top your meal off with the traditional Malaysian beverage Teh Tarik, a frothy, milky tea.
Who knows, one of these may soon become a direct rival for traditional and much-loved signature Lulu's Char Koay Teow, but we doubt it.
Go ahead, try them all.
The History Behind the Name
In times past Char Koay Teow was a dish often consumed by the poorer of the populations, with fisherman and farmers creating the dish from leftovers.
As time passed, as is the case with apparent 'peasant' dishes of many nations, Char Koay Teow was soon sold as a street food. Served on banana leaves traditionally it was an easy dish to create, cheap to create and fast in its delivery.
The flat rice noodle is the main staple, but the added ingredients range from offal to duck eggs and everything in between.
It is this combination of a simple noodle with the use of what was available to the vendor's hands at that moment that made the dish so popular and suitable for all tastes.
While the spelling of the restaurant's signature sought after dish may vary from region to region, country to country, one thing remains a constant. The base love of fresh ingredients coupled with the spirit of feeding people delicious, comforting, deeply flavoursome food lives on in this restaurant...and long may it continue.
For those who frequent here, the waiting when the restaurant is at its busiest is simply an understanding and worth every second, but if you're in a hurry, try Lulu's Express, a takeaway option now open in the Galleria Food Court.
Where: 27-31 Hardware Lane Melbourne 3000
Cuisine: Malaysian, Singapore, Southeast Asian
Book: Ph: 0401 263 939 E-mail: lulusckt@gmail.com
Mon – Thu: 11:00 am to 3:00 pm, 5:00 pm to 8:00 am
Fri: 11:00 am to 3:00 pm, 5:00 pm to 8:30 am
Sat: 11:00 am to 8:30 pm
Sun: 10:30 am to 3:30 pm
Looking to try out new restaurants and different cuisines in Melbourne? Research your next favourite
here
.