9 Ways Good Food Gift Cards can Boost Your Restaurant's Bottom Line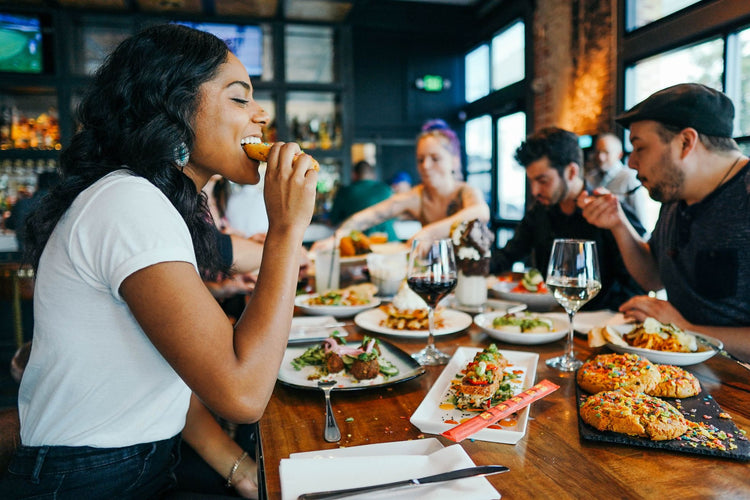 Let's all face it; restaurants are looking for new ways to keep their doors open post-Covid. Two years ago, most countries mandated that restaurants couldn't offer on-premise dining. Restrictions against on-premise dining, coupled with social distancing measures proved to be a hefty blow to the otherwise thriving hotel industry.
Luckily, gift cards offer a fast, risk-free way to diversify your revenues and grow your profits. Offering gift cards is an innovative and refreshing way to not only connect with your customers but gives them an exquisite dining experience anytime and anywhere.
Research shows that 80% of customers who pay for dining with gift cards are likely to spend more than what the gift card is worth. So, restaurants must keep an eye on dining gift cards and make them part and parcel of the point of sale POS.
Here are nine ways gift cards can improve your restaurant's bottom line.
1. Customer loyalty
Customers who purchase dining gift cards essentially commit or promise to be back. These customers are your future clients. In addition, they may show that they care about your brand by sharing it with loved ones and relatives.
There's no denying that customer loyalty is at the heart of every business, regardless of size, sector, or sophistication. So, one-way dining gift cards, especially Good Food Gift Cards improve your restaurant by offering an easy way towards customer loyalty.
2. Secured future purchase
Another way dining gift cards improve your restaurant's business is through the promise of future business. When a guest purchases a Good Food Gift Card, for instance, s/he promises your restaurant a future business.
So, if you're struggling to pay your staff and meet your daily operational costs, this is exactly the promise you need – the promise of future business and future customers.
3. Revenue growth
Gift cards undoubtedly offer a unique way to grow your revenue. According to documented research, customers spend an average of $60 over the value of a dining gift card, adding to the appeal of advertising dining gift cards to boost their revenue.
Restaurants have also noticed a $24 additional spend for customers who pay with gift cards. And the average check size for restaurants that sell gift cards is $30 compared to $28 for restaurants that do not have gift cards.
So, there's no denying that dining gift cards are a perfect way to meet your revenue growth, especially if you're facing high operational expenses.
4. Innovation
Hotel and restaurant staff thrive on inefficient systems with innovative management styles. Restaurant gift cards reflect a restaurant's commitment to innovation and keeping its staff happy.
Gift cards offer ease of use, meaning guests can receive their gift cards either through electronic mail or text message. There's no need for tracking physical gift cards because dining gift cards can be accessed electronically through the customers' phones, computers, or tablets.
So, the fact that restaurants are adopting gift cards at a rapid rate reflects the adoption of innovation, especially when hotels are struggling to grow their business.
5. Contactless payment
We love efficient, seamless systems, right? Well, restaurant gift cards offer contactless payment, meaning that guests can pay virtually when using these dining gift cards.
And while dining gift cards are not considered perks, reducing human contact or human interaction during health crises is highly encouraged.
So, even as the world recovers from a gruelling pandemic that left industries dead and sectors crippled, restaurants must innovate around reducing human contact and making systems more responsive to customer needs.
6. Year-round purchase
Dining gift cards can be sold throughout the year albeit they seem to excel during the holiday seasons. For instance, Good Food Gift Cards make a wonderful present beyond just the Christmas season. They're perfect for Mother's Day, Father's Day, birthdays, and graduation ceremonies.
Good Food Gift Cards allow the recipient to personalise their gift and make their own decision rather than just paying in cash. In addition, restaurant gift cards can be advertised on the restaurant's website and physically (or in-store), especially during a dining session.
7. Customer service
Is your hotel looking for a lasting solution in customer service? Well, Good Food Gift Cards are a perfect solution for this. Not only are they a great way to foster positive customer service, but Good Food Gift Cards also represent a way to appreciate your guests.
Restaurants that invest in Good Food Gift Cards show customers that they can go beyond the norm, and do something different. So, your restaurant is likely to benefit significantly from the positive customer service afforded by Good Food Gift Cards.
8. Larger checks
Did you know that dining gift cards are the best way to promote larger checks at your premise? Well, if you didn't know, guests spend more when using gift cards, allowing your restaurant to take advantage of this extra spend.
In restaurants that offer in-store dining, servers can be trained to promote gift card sales. Promoting gift cards can also be done at the cashier. The benefit of promoting dining gift cards at the registry is to take advantage of the physical display.
In addition, dining gift cards are designed with an eye-catching design to boost sales. Research shows that customers are twice as likely to pay full price when using a gift card.
Good Food Gift Cards may help your restaurant benefit from larger checks, courtesy of their convenience, flexibility, and versatility.
9. Brand awareness
Gift cards are a unique way to build brand awareness, especially if you embed your restaurant's name and logo on the card. These multi-purpose cards serve as a source of brand awareness and free advertising.
And even if guests spend months without visiting your restaurant, they will always be reminded that it exists anytime they open their wallets. And you may also find yourself welcoming and dining with new customers when they receive a dining gift card from someone else.
So, if you want to improve your bottom line by building and nurturing your brand awareness, look no further. Dining gift cards are the perfect way of doing that.
Gift Cards – The Way for Restaurants to Seize New Markets
Research shows that 44% of customers visited a new restaurant because they received a gift card. This statistic shows that gift cards are a classic way of ushering in new guests and creating new leads.
Another research shows that 54% of customers expect to purchase a dining gift card soon. Restaurants must always look out for this new frontier. The rapid adoption of dining gift cards is a surefire way of diversifying your restaurant's income.
Finally, eight out of ten customers expect to purchase more than one gift card. This statistic indicates the potential of gift cards in creating larger checks for restaurants that care to adopt them.
Good Food Gift Cards – Your Ultimate Prize
Good Food Gift Cards offer a perfect way to gift someone - a relative, spouse, family, or peer. Good Food Gift Cards can improve your restaurant in numerous ways, allowing you to take advantage of this innovation.
So, if you're looking for a new, innovative way to boost your bottom line and close leads, Good Food Gift Cards will surely get the job done.
Contact
Good Food Gift Cards
for superior dining gift card solutions.